4th of July Cocktails
Happy Birthday U.S.A!
The Declaration of Independence granted Americans freedom from the rule of Great Britain in 1776. Now 241 years later, Americans still love to shoot off fireworks and sip a variety of delicious cocktails in celebration of our nation's birthday.
Streets will be lined with barbecue pits, exploding fireworks will rain down from the skies, and families will relax with cool, refreshing drinks in backyard pools. Whether you were born in America or not, celebrating the Fourth of July is a colossal all-day food and drink fest that everyone can enjoy.
Wondering how you can keep the party from going stale and the guests entertained with festive cocktails? In the spirit of celebration and independence from everything-including routine, mundane drinks-we have put together a short list of cocktails to keep your partygoers feeling festive.
Bristol, Rhode Island

 

The oldest continuous Independence Day celebration in the United States is the Fourth of July Parade in Bristol, Rhode Island; it began in 1785.
Food Pairings
No Fourth of July party would be complete without grilled delicacies to eat while you sip on your favorite cocktail. Sweet cocktails and wines are best served with fresh seafood and raw vegetables grilled to perfection and topped with savory seasonings.
Grilled Garlic Cajun Shrimp Skewers
Makes 12 skewers (4 to 6 servings)
Outdoor grilling on sunny, humid days has been an American classic for decades. These easy kebabs pair well with the festive drinks and, of course, make for great eating. Putting shrimp on the grill provides a lightly charred smokiness that makes it irresistible. Brushing on extra marinade at the end ensures great flavor in every bite.
½ cup (8 tablespoons) unsalted butter
4 cloves of garlic, pressed or minced
1 tablespoon Cajun spice (provides light heat; it's not too spicy)
½ teaspoon salt (omit if using salted butter)
1 tablespoon lemon juice (from ½ medium lemon)
2 pounds large shrimp (21 to 25 count), peeled and deveined
12 medium wooden skewers
Soak wooden skewers in water 30 minutes to reduce risk of burning the sticks. Preheat grill to medium-high (400˚F).
Combine all marinade ingredients in a small saucepan. Bring to a simmer then remove from heat. Pour half of the mixture into a ramekin and leave remaining marinade in pan. (You'll brush on half now and brush on remaining marinade after shrimp are grilled.)
Skewer 4 shrimp on each damp skewer without leaving spaces. Lay skewers flat on a rimmed cookie sheet. Brush one side of the skewered shrimp with sauce and refrigerate for 2 minutes until butter firms up. Flip shrimp over, brush second side and refrigerate 2 minutes until butter firms up.
Place skewers on the grill and, with the lid on, grill shrimp about 2 minutes per side or just until cooked through and no longer transparent. Remove shrimp from grill. Don't overcook or they will be rubbery. Brush on reserved sauce and serve.
Red, White and Blue Sangria
Makes 8 to 12 servings
There is no better way to get the Fourth of July cookout started than with a festive pitcher of sparkling red, white and blue sangria.
1 bottle (750 ml) dry white wine, such as Chardonnay
2 cups (1 pint) fresh blueberries
1 cup fresh raspberries
1 cup apple juice (or white grape juice)
1 pound fresh strawberries, hulled and sliced
1 bottle (750 ml) champagne (or any variety of sparkling white wine)
3 to 4 Granny Smith apples (see Note below)
ice, for serving
Stir white wine, blueberries, raspberries, strawberries and apple juice together in a large pitcher. Cover and refrigerate for 1 to 4 hours, to let the flavors meld. (The longer the mixture sits, the redder it will become.)

When you're ready to serve the sangria, gradually stir in the champagne, apples and ice. Serve immediately.
Note: Other options for the "white" fruit could include fresh pears, jicama, pineapple or star fruit. If you would like the tiered red, white and blue presentation in individual glasses, just add extra red berries to the bottom of empty serving glasses, followed by a layer of blueberries, then strain out the sangria wine, and add some apple stars on top.
Navy Touch
Makes 1 serving
This cocktail is a smooth mix of Sauza Silver Tequila, fresh raspberries and lemon-lime soda. The hints of fruit in this moderate bodied, clear tequila are made even stronger with the fresh raspberries and lemon-lime soda in this cocktail. This is usually garnished with mint, but in the spirit of independence, a garnish of blueberries can be added to complete this patriotic drink.
1 ½ ounces Sauza Blue Silver Tequila
2 ounces cranberry/raspberry juice
1 ounce lemon-lime soda
blueberries, for garnish
Combine all ingredients except blueberries in a pitcher filled with ice. Garnish each glass with blueberries.
Rebel Rumba
Makes 1 serving
This Samuel Adams beer cocktail is just as rebellious as the man himself. The brand has been a staple across the United States since its founder, Jim Koch, named the Boston Beer Company after his favorite revolutionary protester, Samuel Adams, in 1984. Now this cocktail mixes it up with the brewer's fruit-infused IPA.
¼ ounce orgeat
¾ ounce lime juice
½ ounce dry Curaçao
½ ounce dark rum
½ ounce white rum
3 ounces Samuel Adams Rebel Juiced IPA
mango or pineapple slice, for garnish
mint, for garnish
Combine all ingredients in a shaker and shake. Strain into wine glass, add ice and garnish with fresh mango or pineapple and mint.
Stoli Strawberry Rhubarb
Makes 1 serving
For the slightly less rebellious, a vodka strawberry rhubarb cocktail is a refreshing alternative. This cocktail, made with Stoli Vodka, which is imported from Latvia, is sweetened with both fresh strawberries and strawberry syrup for a sweet-tart taste.
1 part Stoli Vodka
4 strawberries
1 part rhubarb simple syrup (see recipe below)
½ part lime juice
½ part soda water
1 lime twist, for garnish
Purée strawberries, reserving one for garnish, until smooth, using a food processor or by pushing through a fine sieve.
In a highball glass filled with ice, combine Stoli, rhubarb simple syrup, strawberry purée and lime juice. Stir gently and top with soda water. Garnish with a lime twist and a fresh strawberry.
Rhubarb Simple Syrup
Makes about 1 cup
½ cup sugar
¾ cup water
½ cup chopped rhubarb
In a saucepan over low heat, combine the sugar, water and rhubarb and cook until sugar is dissolved and rhubarb is soft (about 5 minutes), stirring gently. Remove rhubarb and strain. Allow syrup to cool before using.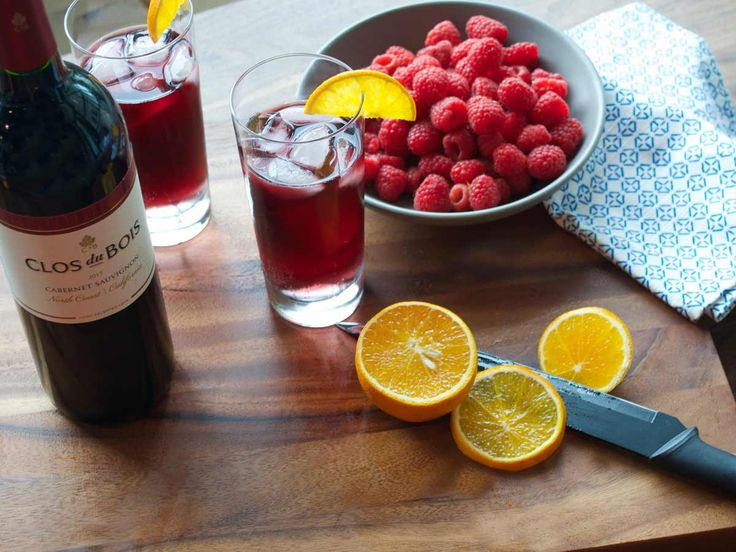 Clos du Bois Summer Sunset
Makes 1 serving
There is no better way to end a night of celebration than with a Clos du Bois wine cocktail, made through a marriage of French style winemaking techniques and California fruit.
¾ cup Clos du Bois Cabernet Sauvignon
¼ cup lemon-lime soda
thin orange slices, for garnish
raspberries, for garnish
Combine the wine, lemon-lime soda and ice in a highball glass and stir well. Garnish with orange slice and raspberries.
Looking for exclusive offers?

Find MGM Wine & Spirits on Social Media

Shop one of our convenient

locations today!