Holiday App Pairings
A Guide to Holiday Flavors
This holiday season, be sure to pile your plate-and that of your loved ones-with the most delicious pairing options for wine and beer. Whether you are hosting or attending, chances are you're bringing an appetizer (or two or three), so throw in some beer or wine to go along with it. 
The science behind food, wine and beer combinations comes down to the mingling of flavors in your mouth. Interactions between flavors can be tricky to pin down because they depend on many factors, including dryness, bitterness and spiciness. However, when the pairing is done correctly, eating food with wine or beer has been shown to bring out the best flavors in both. Numerous pairings have been time-tested, such as Gorgonzola cheese with India Pale Ale or a medium red wine, and we have broken down some of the most crowd-pleasing combinations into easy-to-follow wine and beer recommendations.
Cheesy Pairings
Serve those classic cream cheese pickles wrapped in deli meat with a Provençal rosé. The light and slightly fruity wine balances the acidity of the pickle. You may also serve the appetizer with Pilsner or Hefeweizen.
Try baked Brie served with some plums, berries or apples. Accompany with a light red or rich white wine, such as Pinot Noir or Chardonnay, or beers such as Scotch Ale or Blonde Ale.
Put together a cheese and cracker platter. Include a variety of cheeses to satisfy different textures and flavors. Port, Merlot, Pinot Gris and Riesling, as well as Stout, Porter and Pale Ale go well with aged Cheddar cheeses. Riesling, Port, Pinot Noir and Merlot, along with Belgian Ale, Porter and Stout, complement the popular blue cheese, Gorgonzola. Camembert, a soft cheese, is best accented with rosé, Champagne, Chardonnay, Pinot Noir, port and fruit beer.
Doughy Goodness
Mini pizzas can be a tasty finger food, and two of the most popular toppings are sausage and pepperoni. Sausage pizza pairs well with Syrah or Pinotage wines because both carry an intense flavor. Pepperoni pizza, another strong flavor, pairs with Sangiovese or Cabernet Franc, a strong wine capable of counterbalancing the pepperoni.
Bruschetta, with its notes of basil, tomato, balsamic vinegar and pepper, is wonderful when paired with medium red wines, including Merlot, Sangiovese, Cabernet Franc and Barbera. Lagers also pair well with bruschetta.

 
Meat and Seafood Delights
Swedish style meatballs with creamy sauce are well matched with Pinot Noir, Chardonnay or Riesling, as well as Scotch Ale. Italian style reds are in high demand for tomato sauce-based meatballs. Try Barbera and Sangiovese, or, for beer, sample some Blonde Ale or Pale Lager.
If you prepare marinated shrimp, match its flavors of the sea with Chardonnay. For beer, you can drink Amber Ale or Hefeweizen, which complement the lightness of the dish.
Sweet and Salty Snacks
A wide variety of wines and beers pair with nuts, a classic salty snack at social gatherings.
Walnuts: Wine-Pinot Noir, Beer-Stout
Pecans: Wine-Riesling, Beer-Stout
Smoked Nuts: Beer-Porter
Salted Peanuts: Beer-IPA
Pistachios and Cashews: Wine-Sauvignon Blanc or Pinot Gris
Chestnuts: Wine-Merlot
Hazelnuts or Almonds: Wine-Chardonnay or Champagne
Popcorn balls are always a special treat around the holidays. This delicious snack also happens to pair well with wine and beer. Wash down these sweet popcorn kernels with some Cabernet Sauvignon, Chardonnay or sparkling wine. If the popcorn is especially buttery, test out some Extra Special Bitter beer, and if the popcorn is saltier, sample some Berliner Weisse.
Crazy for Cookies
Snickerdoodle-Sauvignon Blanc
Sugar Cookie-Prosecco; Belgian Blonde for a hint of lemon, Nut-brown Ale for the opposite end of the spectrum
Molasses-Pinot Noir for berry notes
White Chocolate Macadamia-slightly citrusy Hefeweizen or a Biére de Garde

 

Ginger-Nut-brown Ale or Stout
Test Your Taste Buds

Appetizer pairings truly are a science. The "apéritif effect" refers to the phenomenon that wine and beer affect your brain's hypothalamus region, making it responsive to the smell and taste of food.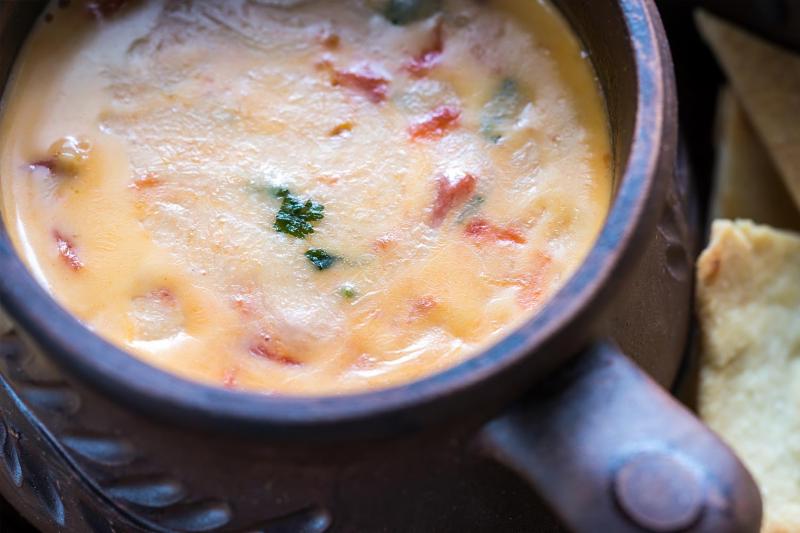 Food Pairings
Pinot Noir Three Cheese Dip
Makes 4 to 6 servings
Pair with Woodbridge by Robert Mondavi Pinot Noir.
1 cup uncooked bacon, cut into ½-inch pieces
2 tablespoons Woodbridge by Robert Mondavi Pinot Noir
1 cup Gruyère cheese
½ cup cream cheese
½ cup mayonnaise
1 tablespoon lemon juice
1 teaspoon salt
¼ teaspoon black pepper
¼ teaspoon cayenne
2 tablespoons Parmesan
1 tablespoon parsley, finely chopped
1. Preheat oven to 400°F.
2. Place bacon in a large skillet over medium-high heat. Cook for 2 to 4 minutes; then add Woodbridge by Robert Mondavi Pinot Noir and cook for an additional 10 minutes to render the fat and crisp the bacon. All wine should evaporate during cooking. Remove from heat and allow the bacon to cool completely.
3. Place all ingredients including the bacon, (except Parmesan and parsley), in a large mixing bowl. Stir gently until fully combined. Scoop the dip into an ovenproof cast iron skillet or ceramic dish. Sprinkle Parmesan evenly over the top.
4. Place in the oven and cook for 10 to 15 minutes, or until dip is bubbling.
5. Remove from oven and garnish with parsley. Serve with flatbread or crackers.
Looking for exclusive offers?

Find MGM Wine & Spirits on Social Media

Shop one of our convenient

locations today!

 
The items offered in this sale can be purchased at the prices listed only at participating MGM, MGM Wine & Spirits, and MGM Liquor Warehouse locations, either from existing stock or by special order. Not all products are carried in stock at every MGM location, and not all products are offered at the sale price at every MGM location. Some products will be available in some stores only by special order. It is also possible that our stores and/or our suppliers may run out of some items or vintages. Thus, availability may change throughout the sale period. Call ahead to assure availability. We are not responsible for typographical errors. No additional discounts may be applied to sale products.