Holiday Treats and Cocktails
Holiday Treats and Cocktails
Sweet Holiday Partners
Leave the milk and cookies for the kids-or by the chimney for that elusive late-night visitor-you can pair wine and cocktails with your sweet treats this holiday season. The most important thing to keep in mind is that the wine or cocktail should be sweeter than the dessert it accompanies to make a tasty match.
In terms of wine, Moscato d'Asti is a go-to choice that pairs well with most everything sweet, including the French classic bûche de noel, cheesecake and fruity desserts. Plus port, Banyuls and PX Sherry pair well with chocolates and chocolate desserts.
When it comes to mixing it up with spirits, have fun with compatible flavors-such as apples and cinnamon (apple cider martini) or bananas and chocolate (chocolate martini with banana dessert). Creamy cheesecake could team well with fruity liqueurs and cocktails, and chocolate treats are a natural with peppermint liqueurs.
Maybe if you leave a glass of port or a tasty martini by those cookies near the chimney that could earn you a big bump up the "nice" list for next year.
The Minty Grasshopper

 

The cool, minty Grasshopper cocktail reportedly dates back to the 19th-century. It was created at Tujague's, the second-oldest restaurant in New Orleans, which was opened in 1856 by Guillaume Tujague. Some time before he died in 1912, Guillaume sold the restaurant to Philibert Guichet, who won second prize in a prestigious New York cocktail competition for this drink.

Source: Cocktails, The Bartender's Bible by Simon Difford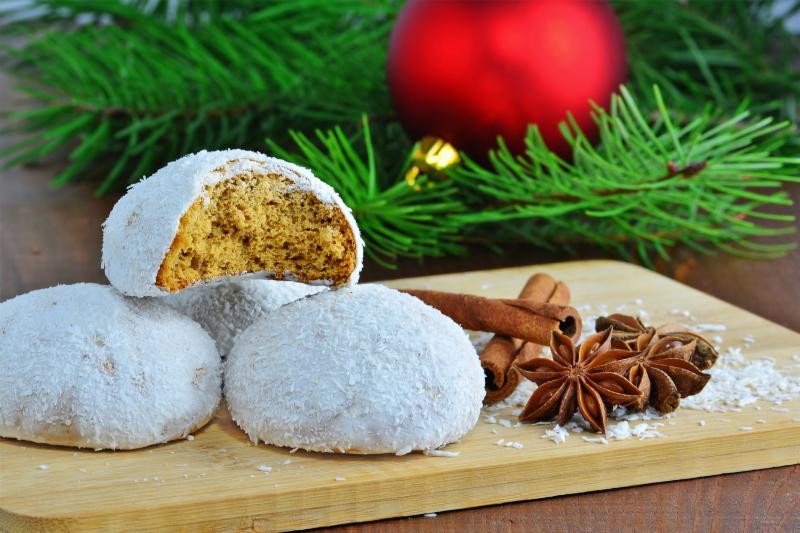 Following are suggestions to help you mix it up with some specific treats you may see atop the dessert table this holiday season. Beyond the ideas here, try experimenting with flavors you enjoy together.
Almond-Flavored Cookies: Oloroso sherry or Madeira
Apple Pie: French Sauternes or Barsac, sweet styles of Riesling (Auslese, Beerenauslese or Trockenbeerenauslese) or an ice wine
Citrus Desserts: Muscat, Muscat de Beaumes-de-Venise, citrus cocktail or perhaps a chocolate orange martini
Chocolate Desserts: Banyuls (from France), tawny port (from Portugal), and PX sherry (from Spain). Chocolate mint martini or a Brandy Alexander. With milk chocolate: Ruby port
Fruity Desserts (banana, cherry, pear): Moscato d' Asti and desserts made of fruits that pair well with chocolate. Chocolate martini
Gingerbread: Late harvest Gewürztraminer is sweet and fruity with its own spicy notes to complement those of the cookies. Also try Riesling, Zinfandel or a sweet Muscat
Hanukkah Doughnuts: Bubbles can make a match if they are fried; try sweet sparkling wine or Champagne labeled "demi-sec" or "doux."
Pecan/Pumpkin Pie: Tawny port, pumpkin spice martini, pumpkin seasonal beer
Sugar Cookies: Moscato d'Asti
Holiday Treats and Cocktails
Grasshopper
The classic minty cocktail would be a good complement with chocolate.
1 ounce green crème de menthe
1 ounce crème de cacao (white)
1 ounce heavy cream
1 ounce milk
Pour ingredients into a cocktail shaker with ice. 
Shake briskly and then strain into a chilled cocktail glass.
Holiday Treats and Cocktails
Godiva Peppermint Stick Martini
No holiday party would be complete without this dark and decadent chocolate martini.
1 ounce Godiva Dark Chocolate Liqueur
1 ounce crème de menthe
1 ounce cream
Shake with ice and strain into a chilled martini glass. Garnish with crushed candy cane.
Courtesy of Godiva Liqueurs
Holiday Treats and Cocktails
Eggnog Martini
Jazz up a holiday classic.
1 part DeKuyper Amaretto Liqueur
1 part Pinnacle Original Vodka
2 parts eggnog
Nutmeg
Add ingredients to an ice-filled shaker. Shake and strain into a Martini glass. Sprinkle with Nutmeg.
Holiday Treats and Cocktails
Maker's (Non-Egg) Nog
For those who want a taste of the season without the egg.
2 parts Maker's Mark Bourbon
2 parts simple syrup
2 parts half-and-half
Nutmeg, for garnish
Dark chocolate, for garnish
Shake contents over ice. Strain and pour over ice into a cocktail glass and garnish with nutmeg and dark chocolate.
Holiday Treats and Cocktails
Snickerdoodle Cookie Martini
Pair like with like and have a liquid version of this sweet little cinnamon sugar cookie.
½ part DeKuyper Amaretto Liqueur
½ part Pinnacle Cinnabon Vodka
½ part Cruzan Velvet Cinn Rum
Combine ingredients into an ice-filled shaker. Shake and strain into a chilled martini glass. Garnish with a snickerdoodle cookie, if desired.
Looking for exclusive offers?

Find MGM Wine & Spirits on Social Media

Shop one of our 38 convenient

locations today!

 
The items offered in this sale can be purchased at the prices listed only at participating MGM, MGM Wine & Spirits, and MGM Liquor Warehouse locations, either from existing stock or by special order. Not all products are carried in stock at every MGM location, and not all products are offered at the sale price at every MGM location. Some products will be available in some stores only by special order. It is also possible that our stores and/or our suppliers may run out of some items or vintages. Thus, availability may change throughout the sale period. Call ahead to assure availability. We are not responsible for typographical errors. No additional discounts may be applied to sale products.