Braises and Sauces
Cheers to Slow-cooking Spirited Dishes
The cook time of braised dishes is well worth the wait when the tender meat floods your palate with an array of vegetables, herbs, spices and fermented flavors. Braising is a technique where meat is seared at high temperatures and then cooked slowly in a small amount of liquid, so the meat becomes fall-off-the-fork tender and succulent. Plus, sauces cultivate rich layers of flavor when wine or spirits are in the mix.
Braising liquid is traditionally stock and wine; however, beer emphasizes other flavors in meats. Stock emphasizes the meat flavor, while wine and beer diversify the profile. Wine works in any braise, increasing depth, nuance and acidity. But, do not substitute red for white, or vice versa, as they have different flavor profiles that will work differently in each dish. Red wines tend to have more tannins, the element that dries your mouth as you drink, and can develop a slight bitterness when they reduce in a sauce. White wines add flavor without the bitterness and can be reduced for much longer than reds. Although the alcohol mostly reduces out of wine, cooking wines can skew the flavors of your dish and effect the acidity of the braise. Cooking wines may have added preservatives and salt that table wines do not contain.
Beer is a slightly more finicky companion. Light lagers engage a pleasant, slightly sour note that pairs with pork, but darker stouts and porters are a better match for beef. The slightly sweet notes of cider add light freshness to poultry and pork.
When buying a bottle to pour into your dinner, don't use anything you would not also enjoy in a glass. A low-quality wine or beer will not enhance the flavors of a braised dish, but the subtlety of your nicest bottle will be lost. A standard dry table wine or drinkable beer will do the trick.
Brandy and bourbon are also delicious additions to sauces and braises. Nutty, spicy notes in brandy complement chocolate and fruity desserts, while the smoky flavors of bourbon enhance pastas and meats, as well as chocolate desserts.
Widely known as an easy way to cook tough cuts of meat, braising is an art that requires minimal fuss for the delectable reward of soft, flavorful meat. Like any good work of art, preparation determines the product.
Several key factors determine the finished texture and taste before the pan even goes in the oven.
Do not crowd the meat in the pot or it will cook unevenly.
Allow the entire piece to develop a deep color during searing before removing it from the pot.
Sauté the vegetables until they become a caramel brown color; you don't want beige vegetables, but scorched black is also unappetizing.
As the vegetables brown, the increased heat causes more chemical reactions, including caramelization, which develops depth and complexity of flavors.
After adding the braising liquid, scrape the browned bits from the bottom of the pot. The bits are packed with flavor that enriches the sauce as they dissolve.
When it goes in the oven, just a few tricks will enable you to braise like a pro. There is no uniform cooking time because each cut of meat cooks differently: longer, thinner cuts will cook faster than stouter pieces. Higher cooking temperatures lead to drier meats, so starting at a lower temperature and increasing to the designated cooking temperature will prevent drying out the meat while still ensuring it cooks thoroughly.
A Lesson in Braising

We braise differently now than we did in the past. During the mid 1800s, braising indicated a wide variety of techniques that involved cooking food with hot coals. Coal gave way to gas and electricity, and now braising means that food is seared in oil or cooked in dry heat, such as roasting or grilling, and then cooked in liquid, according to Michael Ruhlman, author of How to Braise.
Food Pairings
Wine-Braised Beef Brisket
Makes 8 servings
1 teaspoon dried thyme
1 teaspoon salt
¼ teaspoon ground black pepper
1 tablespoon olive oil
1 3-pound beef brisket
1 red onion, sliced
1 (14.5-ounce) can beef broth
1 (8-ounce) can tomato sauce
½ cup red wine
1. Preheat oven to 350° F.
2. Mix thyme, salt and black pepper in a small bowl and rub the mixture over both sides of brisket.
3. Heat olive oil in a roasting pan over medium-heat; place brisket in the hot oil and brown on both sides, 3 to 4 minutes per side. Remove brisket from pan and set aside.
4. Place red onion slices into the hot roasting pan and cook, stirring, until onion is slightly softened, about 2 minutes. Stir in beef broth, tomato sauce and wine.
5. Place the brisket back into the roasting pan and cover pan with foil.
6. Roast the brisket in the preheated over for 1 hour; remove foil and baste brisket with pan juices. Replace foil over roasting pan and roast brisket until very tender and pan sauce has thickened, 1½ to 2 more hours.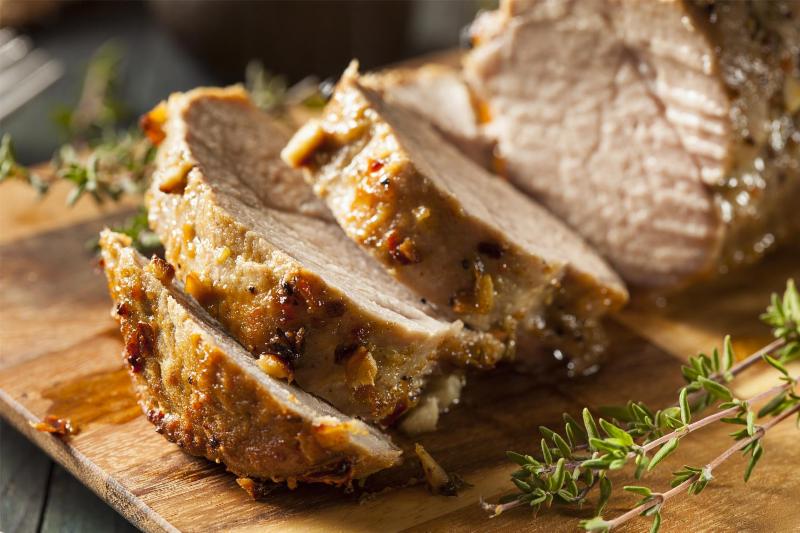 Food Pairings
Makes 8 servings
3 tablespoons vegetable oil
1 5-pound boneless pork loin roast
3 cups chopped onion
5 carrots, chopped
1 (12-ounce) can or bottle beer
2 teaspoons salt
¼ teaspoon ground black pepper
1 bay leaf
4 whole cloves
1. Preheat oven to 350° F.
2. Heat vegetable oil in a heavy pot or Dutch oven over medium-high heat. Sear pork in hot oil until brown on all sides, about 10 minutes. Remove roast from pot.
3. Drain all but about 3 tablespoons grease from pot. Cook onion and carrots, stirring until softened, about 5 minutes. Stir beer, salt, pepper, bay leaf and cloves into the onion mixture.
4. Return pork roast to the pot and cover. Bake in the preheated oven until pork is tender and no longer pink in the center, about 2 hours more.
5. Transfer roast to a platter and cover loosely with aluminum foil. Remove bay leaf from vegetables.
6. Pour the beer and vegetable mixture from the Dutch oven into a blender, filling the pitcher no more than halfway full. Hold down the lid of the blender with a folded kitchen towel and carefully start blender, using a few quick pulses to get the vegetables moving before puréeing until smooth.
7. Bring puréed sauce to a boil in a saucepan over medium-high heat, stirring often until thickened, about 5 minutes. Spoon sauce over pork roast to serve.
Recipe courtesy of allrecipes.com
Looking for exclusive offers?

Find MGM Wine & Spirits on Social Media

Shop one of our convenient

locations today!

 
The items offered in this sale can be purchased at the prices listed only at participating MGM, MGM Wine & Spirits, and MGM Liquor Warehouse locations, either from existing stock or by special order. Not all products are carried in stock at every MGM location, and not all products are offered at the sale price at every MGM location. Some products will be available in some stores only by special order. It is also possible that our stores and/or our suppliers may run out of some items or vintages. Thus, availability may change throughout the sale period. Call ahead to assure availability. We are not responsible for typographical errors. No additional discounts may be applied to sale products.